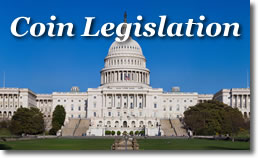 The U.S. House of Representatives on Thursday, May 20, passed the 5 Star Generals Commemorative Coin Act.
Should the act become law, the United States Mint would strike 50-cent clad, $1 silver and $5 gold commemorative coins featuring America's Five-Star Generals who taught or studied at the U.S. Army Command and General Staff College (CGSC).
The coins would get minted for the year 2013, and include portraits of Generals George Marshall, Douglas MacArthur, Dwight Eisenhower, Henry "Hap" Arnold, and Omar Bradley — each led U.S. forces to victory in World War II and were alumni of the CGSC.
Read the rest of this article »
{ 1 comment }