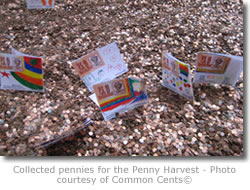 Colorado students in 31 elementary, middle and high schools collected nearly 3.8 million in pennies, or $37,826.02, for local charities during the 18th annual Penny Harvest.
The Penny Harvest is a national program that comes to fruition each fall when children scour their neighborhood in search of pennies.
Collected pennies are tallied toward year's end with youthful philanthropy in full stride as students select charities of their choice to help with cash grants and services.
Read the rest of this numismatic news article »
{ 1 comment }