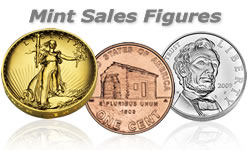 New UHR $20 gold coin sales double up, Guam quarters soar, Braille Silver Dollars sink, and Lincoln Rail Splitter totals approach 24 million. To the US Mint numbers…
Bags and rolls of Guam quarters went on sale May 26 and in less than a week their numbers outshined the first weekly performance of the Puerto Rico quarters. And that happened prior to collectors learning of the extremely low Guam quarter mintage. Instead of rehashing the same details here again, read the CoinNews article entitled Guam Quarter Mintage & Sales Figures.
Sales of new Lincoln penny rolls continue to slow, yet an additional 14,539 of the two-roll sets were purchased just last week. An amazing 23.7M Rail Splitter Cents were sold from May 14 to May 31.
Braille Silver Dollar demand wilted following an impressive rise in the prior week. The latest US Mint numbers show 2,823 more were acquired for a new total of 168,564 across the proof and uncirculated options.
Read the rest of this numismatic news article »
{ 0 comments }