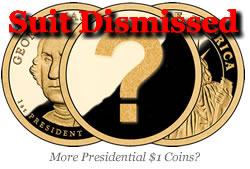 U.S. District Judge Steven D. Merryday ended a Florida man's lawsuit to require Treasury Secretary Paulson to issue Presidential $1 coins with images of the 10 men he says were president before George Washington.
Stanley L. Klos of Palm Beach, Florida wanted Paulson to use his authority over the U.S. Mint to issue coins for the men who were Presidents of the United States in Congress Assembled under the Constitution of 1777, also known as the Articles of Confederation as adopted in March of 1781.
The suit was filed in the Middle District of Florida on May 1, 2008. On June 19, the government filed a motion to dismiss the case, pleading it lacked merit since the Presidential $1 Coin Act of 2005 dictates the coin images — not Paulson.