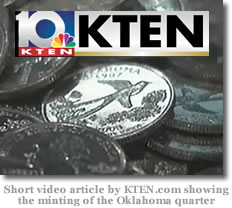 Striking of the first Oklahoma state commemorative quarters began in the U.S. Mint's Denver facility this week with a single ceremonial push of a button.
Oklahoma's First Family was on hand to receive the very first shiny minted quarters. In a NewsOK.com article, Oklahoma's image is in mint condition, Governor Brad Henry was quoted at the event saying:
"I think there's tremendous Oklahoma pride here today," Henry said after the ceremony. "Coming on the heels of the state centennial, I think it's appropriate that the Oklahoma quarter is the first one in 2008, and it gives Oklahoma a chance to shine throughout the land."
While the quarter is now going through its production paces, it won't enter public circulation quite yet. Hundreds of millions will be minted and then placed into circulation later this month. The video article by KTEN.com is currently the best source to see an actual photo or image of the Oklahoma quarter.
Read the rest of this numismatic news article »
{ 3 comments }