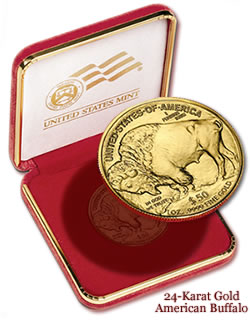 The 2008 American Buffalo Coin is now available for purchase from the U.S. Mint. The coin is the first from a new program titled, the United States Mint Celebration Series.
The program will offer several coin products that are packaged and released to celebrate special gift-giving occasions and events.
The American Buffalo 2008 coin celebrates the 2008 Lunar New Year – a traditionally important gift-giving time of year for Asian-Americans. It contains one ounce of 24-karat, .9999 fine gold.
A Mint statement regarding the American Buffalo celebration coin said:
Read the rest of this numismatic news article »
{ 2 comments }