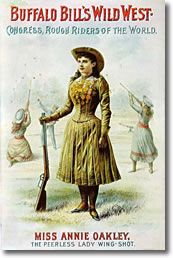 PBS' History Detectives is dedicated to exploring historical mysteries that will, on Monday, investigate whether a 1853 French Napoleon coin was split by sharpshooter Annie Oakley.
Annie Oakley was a superstar attraction in Buffalo Bill Cody's Wild West Show who became famous by performing daring shooting feats.
Annie's marksmanship skills dazzled audiences by edge-splitting playing cards, snuffing out candles, and, of course, shooting coins.
Legendary Native American and Sioux warrior Sitting Bull, also in Buffalo Bill's Wild West Show in the 1880's, called Annie "Little Sure Shot."
Read the rest of this numismatic news article »
{ 0 comments }