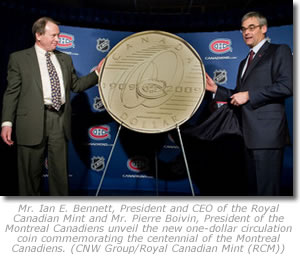 MONTREAL — After a century of dazzling legions of hockey fans, the Montreal Canadiens are themselves feeling pride and excitement at the Royal Canadian Mint's official introduction of the 2009 Montreal Canadiens Centennial one-dollar commemorative circulation coin.
The coin was unveiled today [March 10] at Montreal's Bell Centre by Montreal Canadiens President Pierre Boivin and Royal Canadian Mint President and CEO Ian E. Bennett.
The Mint also unveiled a limited-edition Montreal Canadiens Centennial proof silver dollar enhanced with touches of selective gold plating, and presented two of these precious keepsakes to Canadiens Official Ambassadors Henri Richard and Réjean Houle.
Read the rest of this numismatic news article »
{ 1 comment }