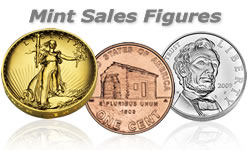 Demand for almost every numismatic product fell according to the latest US Mint weekly sales report. In fact, just analyzing the raw numbers show a drop of over 70,000 total items from the prior week. Nearly every gold coin and all US mint proof and uncirculated sets retreated.
This is not completely surprising, however, as the previous week saw well above average demand for most coins. Also, demand for gold products has declined as the price of the precious metal has fallen. It is down nearly $70 from its peak of just a few weeks ago, and the Mint's prices were only adjusted this Wednesday for the decline. Accordingly, overall sales of the Mint's gold containing products (First Spouse Gold Coins, the American Buffalo Gold Coin, and Ultra High Relief $20 Double Eagle) should rise again in the near term.
A few highlights of the weekly sales report:
The 2009 American Platinum Eagle Proof Coins sold out last week after having reached the maximum mintage of 8,000 units. The sell-out was not unexpected as the Eagle Proofs are the only platinum issues available from the Mint this year. No uncirculated or fractional platinums were struck since they were removed from the Mint's portfolio last year. Also, the Mint announced in October that no platinum bullions would be minted in 2009.
Read the rest of this numismatic news article »
{ 0 comments }