DALLAS, TX — A 1943-S Cent Struck on a Bronze Planchet, VF35 PCGS, an amazing 20th Century Branch Mint error rarity, proved itself once again as one of the most sought after error coins in U.S. numismatics when it soared to an impressive $207,500 tally as part of Heritage Auctions Feb. 4-7 Long Beach, CA Signature® U.S. Coin Auction.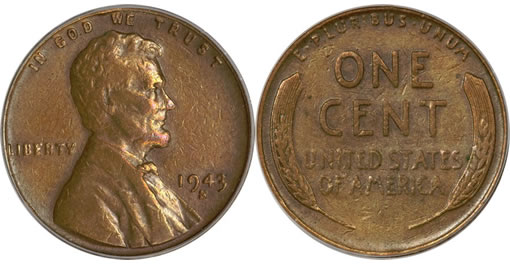 This 1943-S Cent struck on a bronze planchet realized $207,000 at Long Beach – Click image to visit Heritage for additional information
All told the Heritage Long Beach event realized $8.76 million as almost 4,000 bidders competed for the rarities in this focused offering. All prices include 15% Buyer's Premium.
"By certain standards this was indeed a small auction, but we're thrilled with the prices," said Greg Rohan, President of Heritage Auction Galleries. "The market is definitely on the rise. We saw 91.2% of lots sold by value, and 93.7% sold by number of lots. Those are good numbers."
Read the rest of this numismatic news article »
{ 1 comment }