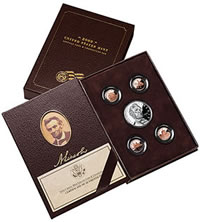 It has been just over eight months since the United States Mint released the Lincoln Coin and Chronicles Set on October 15, 2009 to a ravenous group of buyers.
Initial day ordering was so high that many collectors experienced technical difficulties on the U.S. Mint's online store and when calling in by phone.
Reports placed sales in the first five hours at almost 30,000 — an amazing number considering the mintage of the sets was capped at 50,000. Fast-forward 25 hours and all of the Mint's inventory was marked as sold. New orders were entered on a standby "waiting list" to cover cancellations.
While the 30-hour sell-out was longer than some actually predicted, it showed the intense interest collectors and the general public had for the sets… and still do.
Read the rest of this article »
{ 0 comments }