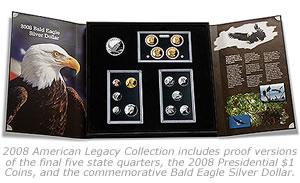 The US Mint on Monday released several cornerstone coins all within a single 2008 United States Mint American Legacy Collection®. The set features 15 popular proof coins "presented in unique and elegant packaging."
The collection includes proof versions of all 14 circulating coins for 2008, including the final five quarters of the 50 State Quarters® Program (Oklahoma, New Mexico, Arizona, Alaska and Hawaii) and the four $1 coins from the second year of the Presidential $1 Coin Program (Monroe, Adams, Jackson and Van Buren). The set also includes a proof version of the Bald Eagle Silver Dollar.
The collection is priced at $100 each, with a household limit of 10 in place. There is a total limit of 50,000 sets.
The kicker for the collection is its packaging. While extremely attractive, all the coins may be purchased separately for a total of $70.90, making the packaging price an extra $29.10.
Read the rest of this numismatic news article »
{ 1 comment }