Rare error to make its first appearance at Heritage's July 2008 Baltimore ANA Auction. Braided Hair large cent error is sized midway between a large cent and a half cent, and was struck on a half cent flan.
Dallas, TX. An amazing Braided Hair large cent struck on a half cent planchet will be making its first public auction appearance at Heritage Auction Galleries' 2008 Baltimore ANA Signature® Auction.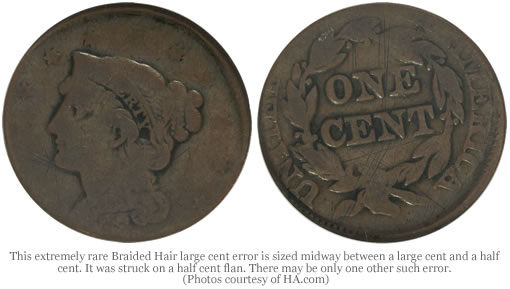 The coin has been consigned by a very private Northwest family whose members were unaware of its rarity or significance. The newly discovered rarity will be sold July 30-August 2, 2008, and the lot listing will be available online at HA.com during early July.
"In more than three decades as a numismatist," commented Heritage's Senior Numismatist Mark Borckardt," and after having examined tens of thousands of large cents, I have NEVER seen a similar error.

As soon as I spotted this amazing error coin, I gathered all of the senior numismatists, and none of them could recall a similar piece.

When they heard that the coin had sat on the front porch of a house for fifty years in a Mason jar – along with a bunch of other old coins in cans and jars – they were equally astounded!

It quickens all of our hearts to imagine that there are still major rarities out there waiting to be discovered!"
Read the rest of this numismatic news article »
{ 0 comments }