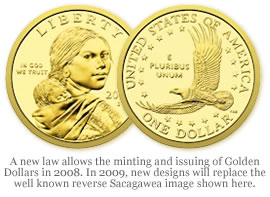 Sacagawea coins will see the light of day in 2008. It is all in thanks to new legislation that was introduced Monday, passed in the House and Senate on Thursday and signed into law by President Bush on Friday. The law amends old and gives the United States Mint the authority to mint and issue 2008 Sacagawea Golden Dollars.
The reason the Mint stopped in issuing them is a story with several twists and turns …
Presidential $1 Coins take hold in 2007, shadowing Sacagawea coins
Sacagawea coins took a back seat to the new Presidential $1 Coins in 2007. With an already vaulted inventory of older Sacagawea coins and the over 943 million new Presidential coins produced in 2007, there was little need to mint Sacagawea golden dollars and release them to the public. Instead, 2007 Sacagawea's were essentially left in the dark and only purchased by coin collectors.
Read the rest of this numismatic news article »
{ 0 comments }