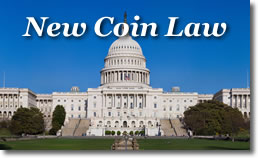 America's Beautiful National Parks Quarter Dollar Coin Act became law today with President Bush's signature. The bill authorizes a new series of 56 quarter designs at a rate of five per year beginning in 2010.
The law mandates that each quarter will be "emblematic of a national park or other national site in each State, the District of Columbia, and each territory of the United States."
The Treasury Secretary will select the final list for respective quarter designs within 270 days and after consulting with the Secretary of the Interior and the governor or other chief executive of each State. The quarter series will last for at least 11 years, but an optional provision provides the Treasury Secretary the authority to extend the series past 2030.
Read the rest of this numismatic news article »
{ 1 comment }