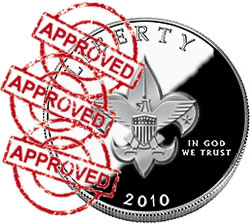 President Bush on Wednesday signed into law the Boy Scouts of America Centennial Commemorative Coin Act (H.R. 5872). The act authorizes 350,000 silver dollar coins in recognition of the 100th anniversary of the Boy Scouts of America (BSA) in 2010.
H.R. 5872 enjoyed overwhelming support in both parties, passing in the House on April 22 and the Senate on September 27.
Congressman Pete Sessions [R-TX], who is an Eagle Scout with four generations of Boy Scouts in his family, introduced the bill and was thankful it passed.
"From conservation to character building, the Boy Scouts' 100th Anniversary celebrates the highest Scouting ideals of helping others and making communities stronger," said Sessions.

"I believe that a commemorative coin will be an important and influential symbol for Scouts of all ages and raising awareness of the importance of Scouting programs for future generations."
Read the rest of this numismatic news article »
{ 0 comments }