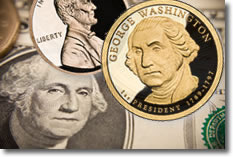 A new poll by Harris Interactive® reflects American's favor for the Lincoln penny, its preference for the $1 bill and the uphill battle the U.S. Mint is fighting to get new Presidential $1 coins into daily circulation.
Presidential $1 dollar coins not making it into circulation
For the latter two topics, there has been no shortage of articles within numismatic publications relaying the overwhelming realities of the near impossible task of a dollar coin competing head on with the lighter, and more convenient to use dollar bill. And while the word "many" has been used to describe those who have not yet seen the Presidential $1 coins used in circulation since their 2007 introduction, an overwhelming 75% of Harris Poll respondents say they have not seen a single dollar coin in circulation.
Given the U.S. Mint produced nearly 941 million presidential $1 coins in 2007 alone, or enough for every U.S. man, woman and child to each have three, the 75% figure highlights that while the coins may be attractive to collectors, so far they have not proven practical for use. In that regard, they lose to the paper dollar just like previous $1 coins.
Read the rest of this numismatic news article »
{ 4 comments }