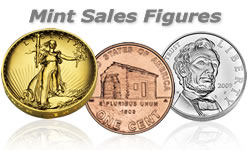 US Mint coin sales trended slightly lower last week with the exception of silver coin demand which was on the rise. Frankly, no numbers unexpectedly shouted and said "look at me."
Here are several highlights, plus a few topics that should make next week sales figures more interesting:
UHR $20 Double Eagle sales continue to flow strong with 2,259 added for a new total of 82,959. (News of the week is about the new 25 coin limit increase.)

Jackson's Liberty First Spouse proof coin sold out last week and that proved to be beneficial for the uncirculated option. It rose by 261 versus the prior weekly climb of only 34.

American Silver Eagle Bullion coins settled down, no doubt thanks to the recent volatile movement of silver prices. While the last sales report showed the eagles had jumped by 475,000 in a week, the latest seven day gain is down to 275,000. Bullion American Gold Eagles fared slightly better although demand was still down with a rise of 15,000 versus the previous 22,000.
Read the rest of this numismatic news article »
{ 0 comments }