An awed hush fell over the Platinum Night bidding floor of Heritage Auctions' Orlando FL FUN U.S. Coin Auction on Thursday, Jan. 7, as "The Olsen Specimen" 1913 Liberty Nickel, PR 64 NGC, lived up to its billing as the most famous American coin by bringing a jaw-dropping $3,737,500. This figure is tied for the third-largest sum ever paid at auction for a single U.S. coin.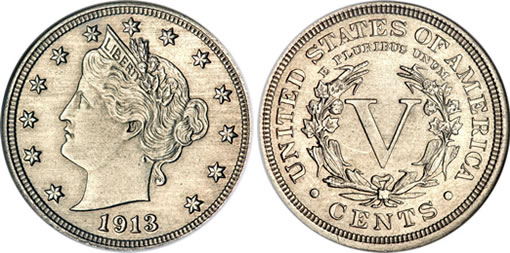 1913 Liberty nickel, PR64 NGC, CAC realized $3.73 million – Click image to visit Heritage Auction page for additional information
With the 1913 nickel, Heritage sold three $1 million+ U.S. coins in the auction, only the third time this has ever been done in a single event, all by Heritage, and this auction is the first time that all three coins hammered above the $1,000,000 mark.
The most famous of the five known Liberty Nickels was the principal highlight in Heritage's $36.5 million+ U.S. Coin Auction, which itself is the principal component of Heritage's $53 million January 2010 numismatic auctions, collectively composed of U.S. Coins and Currency at Orlando FUN and the NYINC World Coins Auction, which realized $11 million+ over the first weekend of the new year. All prices include 15% Buyer's Premium.
Read the rest of this numismatic news article »
{ 0 comments }