Weighing in at an arm-wrenching 44.2 pounds (20.08 kg) and a gigantic arm-circling 44.6 inches (116.3 cm), the word's largest silver coin, named the Europe Taler 2008, was unveiled at this year's European Championship of Football in Austria and Switzerland.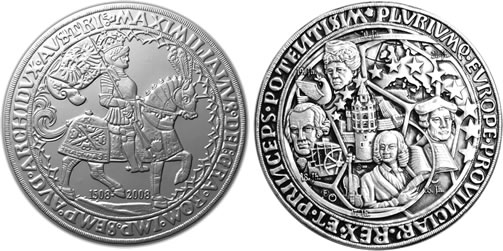 Using the current silver spot price of $16.62 per troy ounce, that makes the coin worth about $23,600 in bullion value alone.
If that's still a little hefty in price… and in weight for you, smaller coins with nearly 4 ounces (120 grams) of fine silver and a diameter of 2.4 inches (6 cm) will be available soon for the price of € 108 (~$168) plus VAT.
The coins will have a limited mintage set to 2,008. As a bonus, packaging of the coin includes "unique pieces from 500-year old wood."
Read the rest of this numismatic news article »
{ 0 comments }