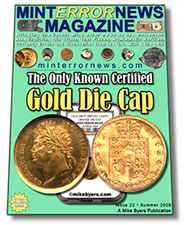 The latest edition of Mint Error News Magazine has been published and, as always, is free. Each issue is eagerly awaited and the magazine is a mainstay for many mint error collectors.
The magazine is on its fifth year and is published by an expert in the area, Mike Byers. It's packed with valuable information and spectacular error coin photos.
There are several focused articles on types of errors in every magazine issue. This particular issue dives in deeper to take a look at errors in 2007 Presidential $1 Coin proofs, the 1969-S Lincoln Cent Double Die and discusses several "die cap" errors. The descriptive example photos are outstanding.
Read the rest of this numismatic news article »
{ 6 comments }