The Professional Coin Grading Service (PCGS) will display Sunnywood's "Somewhere Over the Rainbow" set of exquisitely toned Morgan silver dollars and PCGS Co-Founder David Hall will participate in an important educational forum at the Florida United Numismatists (FUN) annual convention in Orlando, January 8 – 11, 2009.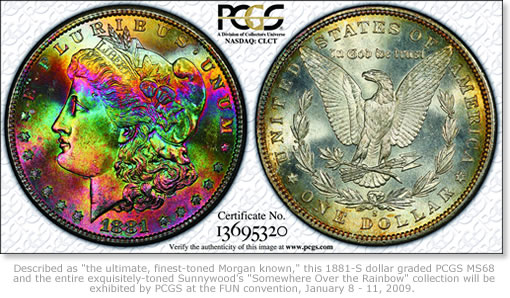 Hall will be a featured expert in the FUN seminar, "2009 or 1929? You Can Survive and Thrive During the Economic Crisis," at 1:15 p.m., Saturday, January 10.
"The Sunnywood's collection is a 100 percent complete, basic set of circulation strike Morgan dollars (1878 – 1921) with spectacular natural toning. The set is ranked number six in the PCGS Set Registry with a weighted grade point average and set rating of 64.611," said BJ Searls, Set Registry Manager.

"The collection was assembled by attorney Douglas Kurz who will be on hand at FUN to discuss the composition of the set. One of the main attractions is an 1881-S graded PCGS MS68 with vivid rainbow toning that's considered by many Morgan dollar enthusiasts to be the ultimate, finest-toned Morgan known."
Other highlights of the 97-coin set include:
Read the rest of this numismatic news article »
{ 0 comments }