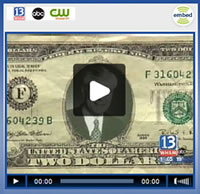 New Presidential $1 Coins are certainly a hit with many collectors, but their acceptance elsewhere since they were first introduced in 2007 has been slow.
Frightening slow… and very similar to previous failed attempts at thrusting dollar coins into the publics hands.
Like the Susan B. Anthony and Sacagawea golden dollars, Presidential $1 coins face a daunting and nearly impossible task of competing with the one dollar bill.
Regardless of the historical and interesting aspects of any dollar coin, handling and using paper bills in every day life is simply too convenient. When it comes to the dollar, most people want to use and receive paper in transactions, not coin.
Read the rest of this numismatic news article »
{ 7 comments }