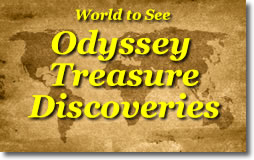 U.S. treasure hunting company Odyssey Marine Exploration struck gold twice in a single week. The company announced Thursday it had discovered new shipwreck sites near the English Channel containing Colonial period artifacts.
That announcement came on the heels of Tuesday's revelation that Odyssey's adventures will be spotlighted on a Discovery Channel shipwreck series that will be seen around the world.
Odyssey has been fighting a huge legal battle with Spain over ownership of 17-tons of Colonial-era coins recovered in May of 2007. While those legal battles will wage on with several hundred million at stake, the latest news from Odyssey is fortuitous in its timing.
Read the rest of this numismatic news article »
{ 0 comments }