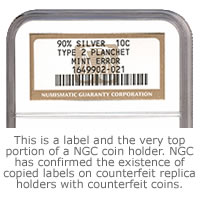 Today, Jan. 7, the Numismatic Guaranty Corporation (NGC) has confirmed the existence of counterfeit replica holders.
NGC was founded in 1987 to objectively provide third party grades to coins. Coins sent to NGC are analyzed, graded, recorded and then encapsulated in tamper resistant, protective holders.
While there are several coin grading services in existence, NGC is considered to be one of the top two – PCGS being the other.
Counterfeiting certified coin holders is not new. Those who do it and are willing to risk jail time victimize the unsuspecting buyer into paying a large amount of money for a coin that may also be counterfeit, or not at the grade the fake holder indicates.
Read the rest of this numismatic news article »
{ 0 comments }