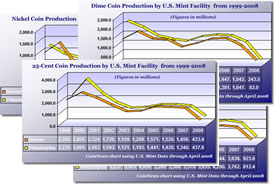 The US Mint has updated coin production figures through to April 2009, and the data indicates a further slide for circulating change.
Rather than offer a hodge-podge of numbers that make it difficult to see and compare mintage levels for modern coinage, the included charts visually show trends for a quick analysis.
The US Mint has already said fewer coins will be struck this year. Had the Mint remained silent, it would still be a simple deduction to realize that 2009-dated pennies, nickels, dimes and quarters should be much, much scarcer.
Read the rest of this numismatic news article »
{ 0 comments }