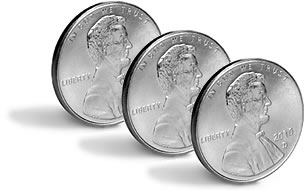 Legislation to change the metallic composition of the penny and nickel to a less expensive copper-colored steel passed in the U.S. House of Representatives on May 8, 2008.
However, the plunge in base metal prices since could very well end the legislation's chances of moving forward in the Senate.
The goal of the bill, which it titled Coin Modernization and Taxpayer Savings Act of 2008 – H.R. 5512, was directed toward saving money after high copper prices pushed production costs of the penny up to about 1.26 cents and the nickel to about 7.7 cents.
Since May, copper prices have fallen to where the melt value of a penny is now under a half cent and the nickel is just slightly higher than 5 cents — the U.S. Mint now makes money issuing pennies and almost breaks even with nickels.
Read the rest of this numismatic news article »
{ 1 comment }