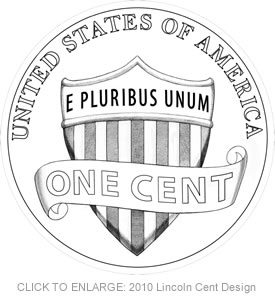 The US Mint today pulled away the drapes and revealed the new 2010 Lincoln Cent reverse design. The 2010 penny is a continuation of sorts of the themed 2009 designs, which reflect four distinct phases of Lincoln's life: his birth in Kentucky, his formative years in Indiana, his professional life in Illinois, and his presidency in Washington, D.C.
The 2010 cent theme is "emblematic of President Lincoln's preservation of the United States of America as a single and united country," and was outlined in authorizing Public Law 109-145.
While this year's cents were issued to celebrate the bicentennial birth of Abraham Lincoln and are minted for 2009 only, next year's penny design has no specific end date. It could be seen by generations yet to come. Congress would have to marshal through new legislation for ANY change to occur.
Read the rest of this numismatic news article »
{ 14 comments }