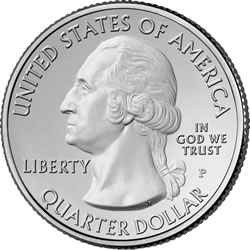 America the Beautiful Quarters kick off in 2010. During the next 11 years and at a rate of 5 per year, the reverse or tails side of each quarter will feature a design emblematic of a national park or site in each state, the District of Columbia and U.S. territories.
[Read about the US Mint's announcement of the America the Beautiful Quarters Program.]
Nearly twenty art renderings were completed some months back as part of the process to select a final quarter-dollar design per location for next year.
Referred to as "candidate designs," these have also been submitted to the United States Commission of Fine Arts (CFA) and the Citizens Coinage Advisory Committee (CCAC) for review.
All of the 2010 candidates are below, with the favorites of both groups highlighted along with their comments.
Read the rest of this numismatic news article »
{ 4 comments }