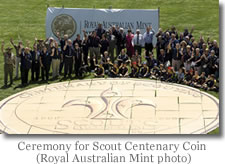 The Royal Australian Mint kicked off the introduction of a new circulating one dollar coin and a series of new collector coins with a gigantic and symbolic coin commemorating the Centenary of Scouts Australia.
The model coin was the largest ever produced by the Mint at an impressive 400 times the size of the normal one dollar circulating coin.
Its unveiling appropriately took place in front of a group of children and young adults who represented various scouting groups across Australia.
Read the rest of this numismatic news article »
{ 0 comments }