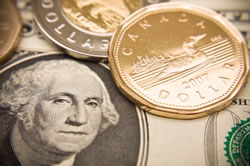 The surging Canadian dollar known as the loonie struck many headlines throughout 2007 and now it gets at least one more – the selection by Time magazine as the Canadian Newsmaker of 2007.
The loonie started the year at 87 cents US and hit a peak on November at $1.10. Most notable for the loonie, however, was Sept. 20, 2007 when it struck parity with the US dollar for the first time in nearly 31 years.
Imports were cheaper for Canadians due to the rise. However, a large percentage of Canadian exports enter the US, resulting in painful constraints in sectors like manufacturing.
Read the rest of this numismatic news article »
{ 1 comment }