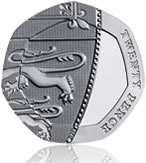 News of an error in UK's Royal Mint 20 pence coin (20p) blasted through the media this week, creating an intensified fervor in collectors trying to find and buy the coins.
Prices for the coin, which have a face value of about 33 cents US, have shot up with auction bidding reaching as high as several hundred dollars. (See current eBay auctions
.)
According to reports, the Mint issued tens of thousands "year-less" 20p coins toward the end of 2008.
Read the rest of this numismatic news article »
{ 26 comments }