Rare and important Coin Medallion of Hadrian Augustus also headlines
Dallas, TX – A trio of exceptional coins from ancient Rome is being offered in Heritage Auction Galleries' Signature® Auction of Ancient & World Coins to be held at the New York International Numismatic Convention, in New York City on January 4-5, 2009. The Heritage auction and the Convention will be held at the Waldorf-Astoria. Details can be found on the Heritage website, HA.com, where the auction will be posted in early December for inspection and bidding.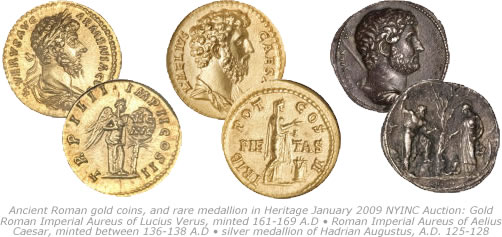 "Among the many magnificent ancient coins in the NYINC auction," noted Cristiano Bierrenbach, Heritage's Director of International Sales, "are a pair of coins graded as "Fleur de Coin" – a French phrase meaning 'absolutely perfect in every way.' This denotes a coin that is not only technically uncirculated, but appears as fresh as the day it was minted. The earlier of the pair is a gold Roman Imperial Aureus of Lucius Verus, minted 161-169 A.D.; NGC has graded it as 'Gem Uncirculated – F.D.C.'"
Read the rest of this numismatic news article »
{ 1 comment }