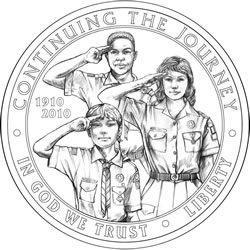 The United States Mint has announced introductory and regular pricing for the two commemorative coins scheduled for release this year.
The US Mint price notice was published in late January by the Federal Register, which is the official daily source for rules, proposed rules, and notices of government agencies and organization.
The two silver 2010 commemorates include:
American Veterans Disabled for Life Commemorative Coins — Release date of February 25, 2010
Boy Scouts of America Centennial Silver Dollars — Release date of March 23, 2010
Both coins have the same specifications of: 90 percent silver, 10 percent copper, a nominal weight of 27.730 grams and a diameter of 1.500 inches or 38.100 mm.
Read the rest of this numismatic news article »
{ 0 comments }