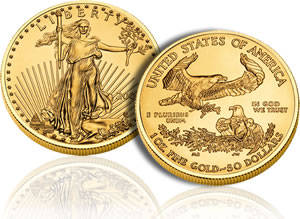 American Gold Eagle bullion coins are not on the same fiery pace seen in 2009 or during the Y2K "scare" in 1999, but the latest United States Mint sales figures show they are on track to record their third best ever March.
With the first two weeks of this month now history, US Mint sales of the gold bullion coins have reached 39,500. Buyers will need to scoop up another 48,501 during the next 2 1/2 weeks to pass March 1998 and earn the third best March ranking.
Any slack in sales however, and the month will likely fall to fourth place — only 16,501 more are needed to attain that spot.
Volatile gold prices have made it an interesting year for American Eagles, with buyers trying to ride the surges and dips.
Read the rest of this article »
{ 1 comment }