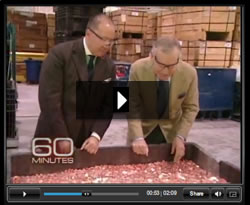 The CoinNews Saturday eNewsletter and the short post Sunday morning included information about the Sunday night 60 Minutes news segment titled, Should We Make Cents?
Morley Safer reports on how the penny and nickel are worth less than the U.S. government cost to manufacture them – the penny almost two cents and the nickel almost a dime.
The largest portion of the segment, as the 60 Minutes title suggests, revolves around the various points of view on whether the government should stop making Lincoln pennies.
Why is the manufacturing cost of the 1-cent penny and 5-cent nickel up so much? United States Mint Director Ed Moy summed it up:
Read the rest of this numismatic news article »
{ 4 comments }