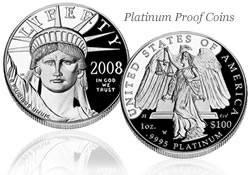 The United States Mint surprised collectors Friday with the return of both proof and uncirculated 2008 American Eagle Platinum coins carrying the "W" mintmark. And even better, the new prices are substantially lower than those from 2007 or in mid 2008.
Both platinum series of coins were pulled from the Mint's online shelves in early August with the expectation they would return after price reductions were made to better match platinum's free fall.
After more than two months of waiting, collectors can now purchase the coins at a discount, albeit with the understanding that there are still substantial premiums to consider when comparing coin prices to platinum's latest slide — it closed yesterday on Nymex at under $900 an ounce, and is falling further in early morning trading. The current level is a far, far cry from its record high of $2,252 per ounce earlier in the year.
As a special interest, these 2008 coins bear the final 'Judicial Branch' design in a three-year platinum series entitled, "The Foundations of American Democracy." Collectors who purchased coins from the previous two years due to their differing designs will likely be inclined to take advantage of the Mint's new prices, which are now lower than last year.
In all this, one thing is certain. There is absolutely no telling how long the coins will remain available. The old and newest proof and uncirculated platinum coin prices follow:
Read the rest of this numismatic news article »
{ 3 comments }