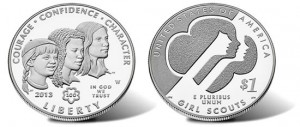 If you have waited but do plan to purchase 2013 Girl Scouts of the USA Centennial Silver Dollars, now is the time to buy as regular prices kick in later Friday, March 29, 2013.
Available in two coin collector qualities, proof and uncirculated, the Girl Scouts Silver Dollars went on sale beginning on Feb. 28, 2013. The United States Mint, which sells the commemorative coins, said it will offer them at introductory prices that are $5 cheaper than regular prices through to 5 p.m. ET on Friday.
Right now, proofs that have a mirror-like finish are priced at $54.95 and uncirculated silver dollars that have a satin-like finish are priced at $50.95. After 5 p.m., the proofs will be $59.95 each and the uncirculated coins at $55.95 each.
These coins are authorized by Public Law 111-86 which states a mintage maximum across both options of 350,000. Sales figures as of Monday have proof Girl Scouts Silver Dollars at 58,746 and uncirculated silver dollars at 23,366 for a combined total of 82,113.
Minted from 90% silver, each commemorative has about 0.773 ounces of silver in them. One ounce of silver is about $28.70 as of this writing. Keep in mind that collectible silver commemorative coins always carry significant premiums above their melt values. Sale prices also have a built-in surcharge of $10 as mandated by the authorizing law. In this case, the collected surcharge funds are paid to Girl Scouts of the USA for Girl Scout program development and delivery.
In the news announcement about the silver dollars, the U.S. Mint also said it would offer a Young Collectors Set "later in the year." No other news has been released about the set since. It is known that it will contain one of the uncirculated coins. Stay tuned to this site as news about the Young Collectors Set will get published as soon as details become available.
Place orders for the commemorative coins at www.usmint.gov or call the bureau's customer service phone line at 1-800-USA-MINT (872-6468).
For more, also read the news article about the coin designs.