Two of the most anticipated numismatic releases of the year happen today after a delay from their initial June 1st scheduled appearance. At Noon (ET), and likely available for not long after, the United States Mint will begin accepting pre-orders for the 2021-D Morgan Silver Dollar and the 2021-S Morgan Silver Dollar.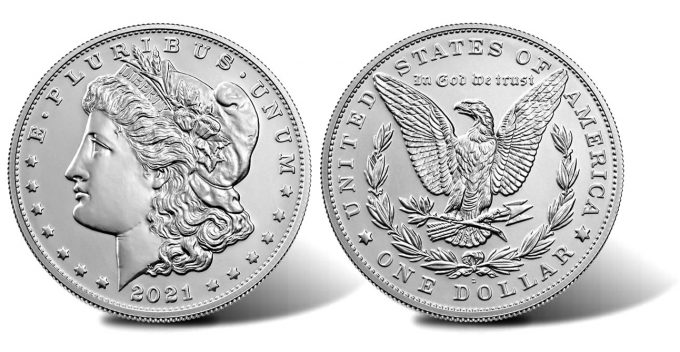 Both are struck from 0.858 troy oz. of .999 fine silver to an uncirculated finish at the Denver and San Francisco Mints, respectively.
These silver dollars are part of six offered by the U.S. Mint to celebrate the 100th anniversary of the transition from Morgan dollars to Peace dollars. The coins were authorized by Public Law 116-286, the 1921 Silver Dollar Coin Anniversary Act.
In May, the Mint offered for pre-order the 2021 Morgan Silver Dollar with a CC (Carson City) Privy Mark and the 2021 Morgan Silver Dollar with an O (New Orleans) Privy Mark as the first two of the six associated dollars. Their launch, however, was riddled with issues as U.S. Mint customers experienced multiple website glitches when trying to place their pre-order. Acknowledging the problems, the Mint first postponed and then announced later pre-order dates for the four remaining dollars, with two for today and the last two in a week.
"During the initial pre-order window for the Morgan & Peace Dollars, the Mint experienced an extraordinarily high volume of BOT traffic. These BOTs were programmed to conduct technology-driven transactions which caused significant interference with many transactions by Mint customers," the U.S. Mint explained in part. "The Mint has now identified a solution that we expect will mitigate most of the issues caused by BOT traffic."
In addition, the Mint reduced household limits for each dollar to three from ten.
All of this leads us to today's offering of the 2021-D and 2021-S Morgan Silver Dollars, two months and two days after originally scheduled. Assuming a relatively smooth debut, the Mint plans a final 2021 Morgan and a 2021 Peace dollar to follow on the 10th. Both will be produced in Philadelphia but will not carry a mintmark.
2021 Morgan Dollar Designs and Specifications
The authorizing law for these coins requires that they feature designs similar to those on the century-plus old Morgans. As such, the Mint scanned its historic assets using modern technology to recreate the designs for 2021. U.S. Mint Chief Engraver George T. Morgan created the original artwork which appeared on silver dollars from 1878 to 1904, and then again in 1921. It is for his work that these coins have taken their nickname.
On obverses (heads side) of each is Lady Liberty in profile. A cap, flora, and a crown incused with the word "LIBERTY" adorn her head, while 13 stars, "E PLURIBUS UNUM," and the date of issuance encircle her.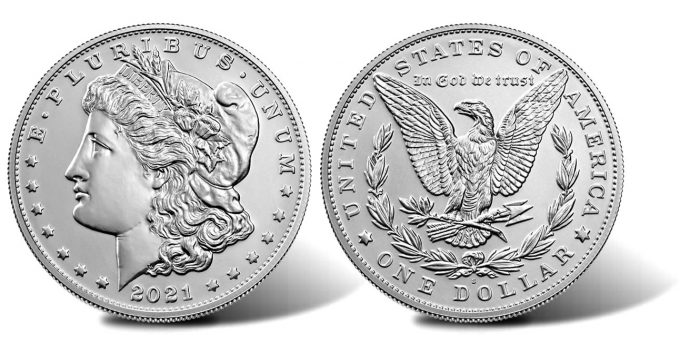 Reverses (tails side) depict a heraldic eagle with outstretched wings clasping arrows and an olive branch, accompanied by a wreath. Reverse inscriptions include "UNITED STATES OF AMERICA," "IN GOD WE TRUST" and "ONE DOLLAR."
2021 Morgan Silver Dollar Specifications
Denomination:
$1
Finish:
Uncirculated
Composition:
99.9% Silver
Silver Weight:
0.858 troy oz.
Diameter:
1.500 inches (38.10 mm)
Edge:
Reeded
Mint and Mint Mark:
D for Denver
S for San Francisco
Pre-ordering and Shipping
Pre-order the coins directly from the U.S. Mint's online store at 2021-D Morgan Silver Dollar and at 2021-S Morgan Silver Dollar.
Each coin is $85 with an initial household order limit of three.
Pre-sales of the dollars are expected to last just a short time despite the official U.S. Mint ordering window which extends to Aug. 17. Shipments will not begin until October, but credit card information will be verified by the U.S. Mint when pre-ordering. The actual charge for the coins will not occur until products ship. It is recommended to always keep current credit card information on account with the Mint to prevent order cancellations for later shipping products.
The silver dollars ship in a black box with an outer sleeve adorned with an image of the coin obverse and accompanied by a Certificate of Authenticity.