United States Mint blockbuster issues continue at noon (ET) today with the premiere of the "Type 2" 2021-W Proof American Silver Eagle, which features an enhanced obverse and a completely new reverse.
Demand is expected to be intense for this collectible which has a product limit of just 300,000 coins and an initial household order limit of three.
The newly-redesigned piece continues the U.S. Mint's 35-year old program which, up until this point, had showcased the same coin designs since their debut. This includes Adolph A. Weinman's Walking Liberty design which first appeared on obverses of 1916-1947 half dollars and John M. Mercanti's heraldic eagle image that originated on reverses of 1986 American Silver Eagles.
A 2021-W Proof Silver Eagle bearing these original classic, "Type 1," designs launched in February. It sold out within minutes.
| | |
| --- | --- |
| A CoinNews photo of a classic "Type 1" 2021-W Proof American Silver Eagle (obverse) | A CoinNews photo of a classic "Type 1" 2021-W Proof American Silver Eagle (reverse) |
An initial release date of July 1st had been planned for the new coin but that was pushed back until today as part of a broader schedule shuffle. The date changes gave the Mint more time to implement website and policy enhancements to deal with BOT traffic issues which customers have experienced while ordering high-demand products.
Refreshed and New Coin Designs
Weinman's full-length depiction of Liberty wrapped in a flag still graces the newest coin's obverse. This image, however, was refreshed using technological advancements. The Mint notes that this design is "a closer reflection of Weinman's original vision and includes the addition of his traditional artist mark." Other inscriptions are traditional and include "LIBERTY," "IN GOD WE TRUST" and "2021.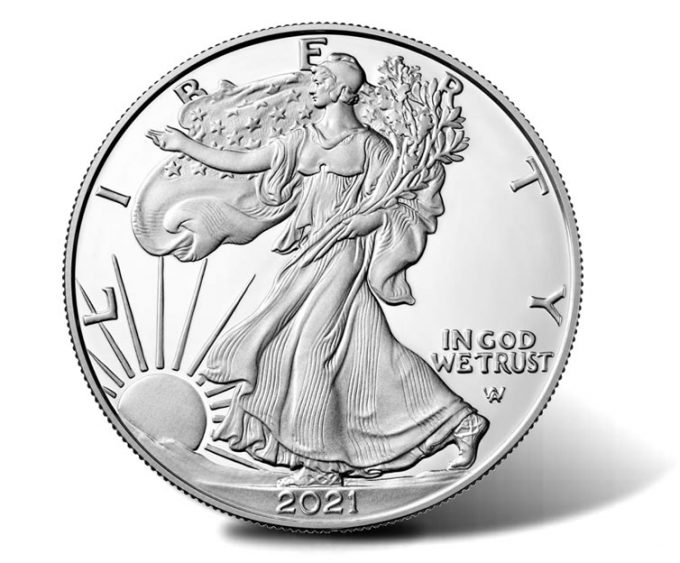 Created by Emily Damstra and sculpted by Michael Gaudioso, the redesigned reverse (tails side) offers the likeness of an eagle as it prepares to land. The eagle is carrying an oak branch as it might be doing to build a nest.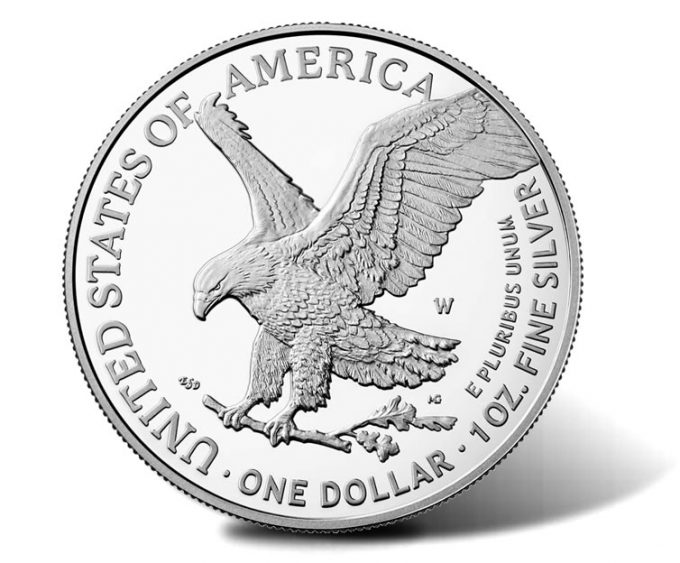 "UNITED STATES OF AMERICA," "E PLURIBUS UNUM," "1 OZ. FINE SILVER," and "ONE DOLLAR" are all inscribed on the reverse along with a "W" mintmark indicating that the coin is produced at the U.S. Mint's facility in West Point.
New Anti-counterfeiting Edge
The newest edition also contains a new reed pattern variation to assist in combating fakes.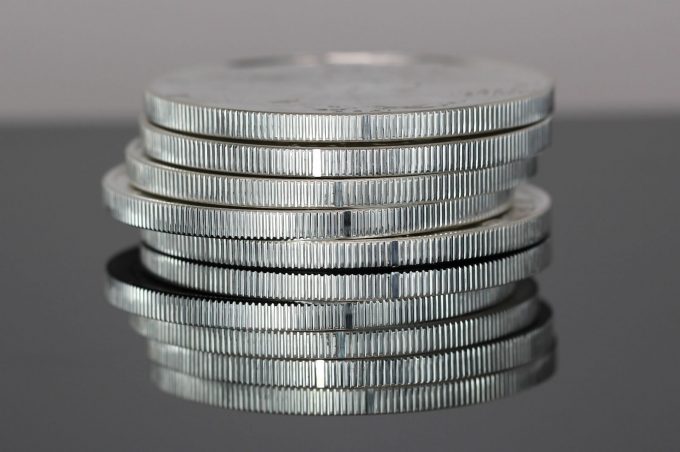 Unchanged, U.S. Mint-provided coin specifications follow.
Proof Silver Eagle Specifications
Denomination:
$1
Finish:
Proof
Composition:
99.9% Silver
Weight:
1.000 troy oz.
(31.103 grams)
Diameter:
1.598 inches
(40.60 mm)
Edge:
Reeded
Mint and Mint Mark:
West Point – W
Privy Mark:
none
Price and Ordering
When released at noon ET, the Type 2, 2021-W Proof American Silver Eagle may be ordered directly from the U.S. Mint via its online page dedicated to American Eagle coins. Pricing is $73 per coin.
Each proof Silver Eagle ships encapsulated within a black presentation box that is adorned with the United States Mint seal. An outer sleeve wraps the box, and it contains an image of the new reverse design. In addition, the coin is accompanied  by a U.S. Mint Certificate of Authenticity that bears an image of the obverse.