Today, March 6, the United States Mint released its newest annual product for collectors, the 2018 Proof Set. The collectible holds ten coins in clad composition with each showcasing frosted designs against mirror-like backgrounds.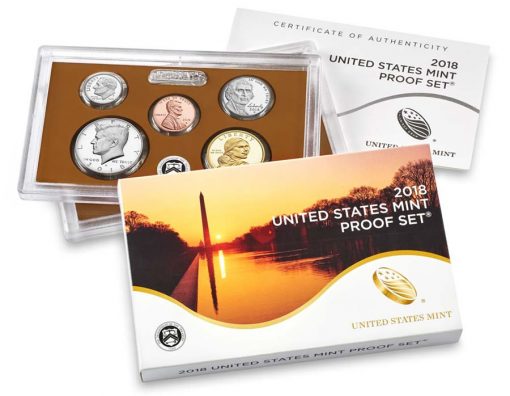 This set will rank among the U.S. Mint's most popular products of the year with sales likely to reach around 600,000. Around 200,000 of them should sell in the next few days alone.
Coins for circulation are made at the Philadelphia and Denver Mints. Those in this set are produced with extra care at the San Francisco Mint. Each is struck multiple times to produce a higher level of detail using polished dies and hand-polished blanks. Priced at $27.95, the set includes:
2018-S Pictured Rocks National Lakeshore (Michigan)
2018-S Apostle Islands National Lakeshore (Wisconsin)
2018-S Voyageurs National Park (Minnesota)
2018-S Cumberland Island National Seashore (Georgia)
2018-S Block Island National Wildlife Refuge (Rhode Island)
2018-S Native American $1 Coin
2018-S Kennedy half-dollar
2018-S Roosevelt dime
2018-S Jefferson nickel
2018-S Lincoln cent
They are presented together in two protective lenses that ship in an illustrated cardboard sleeve along with a certificate of authenticity.
Six of the coins have one-year-only designs, including the quarter-dollars that are issued as part of the U.S. Mint's ongoing America the Beautiful Quarters® Program. The program features five different designs annually with each honoring a unique site of national interest.
Honoring sports legend Jim Thorpe, the Native America dollar is the other coin with a unique design for 2018.
Ordering Information
Buy the set straight from the U.S. Mint's online store, located here, or by calling toll-free at 1-800-USA-MINT (872-6468).