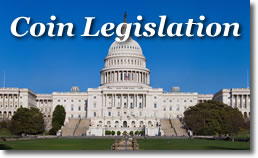 The United States Mint is closer to striking a new series of dollar coins. On Wednesday, Jan. 17, the U.S. House of Representatives passed an amended version of the American Innovation $1 Coin Act (H.R. 770).
As CoinNews wrote about nearly a year ago, H.R. 770 calls for a 56-coin program with dollar reverses celebrating a significant innovation, an innovator, or a group of innovators within each state, the District of Columbia and the five U.S. territories.
Obverses would depict a likeness of the Statue of Liberty that extends to the coin's rim and was large enough to provide a dramatic representation of Liberty.
Originally, the bill sought a 14-year series with four $1 coin designs issued every year beginning in 2018. The amended version changes the series start date to 2019 from 2018, while allowing an option to introduce the series this year with one coin having a reverse bearing:
"The inscription 'United States of America' and 'American Innovators' and a representation of the signature of President George Washington on the first United States patent issued."
American Innovation $1 Coins would be issued alongside the current series of dollars honoring Native Americans and their contributions to the development and history of the United States.
Dollar coins have not been released into circulation since 2011. The U.S. Mint strikes them in circulating, proof and uncirculated qualities solely for coin collector products. H.R. 770 would make no changes in that regard.
For the bill to become law, it must pass in the House, Senate and get signed by the President. It currently resides in the Senate's Committee on Banking, Housing, and Urban Affairs.
In mid-2017, the Senate introduced a companion bill calling for the same series.