Shipwrecked coins from the Spanish 1715 Plate Fleet will be offered for the first time, including more than 200 gold pieces recovered during last year's 300th anniversary of the hurricane that felled most of the fleet's ships.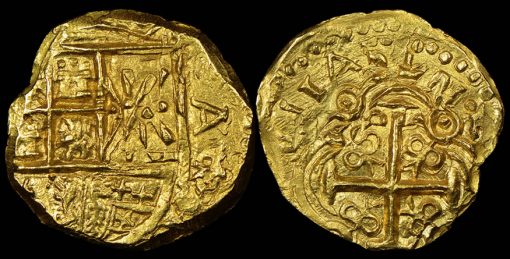 The convoy loaded with New World treasure set sail from Havana, Cuba to Spain on July 24, 1715. In the early hours of July 31, a hurricane sank 11 of the fleet's 12 ships off the eastern coast of Florida, taking more than a thousand souls.
Recovered by 1715 Fleet-Queens Jewels, LLC (www.1715treasurefleet.com), the sunken treasure was found in only 6 feet of water just a hundred feet from the beach in Vero Beach, Florida.
"We hope the recovery of these incredibly rare artifacts will help educate people about Spanish colonization of the New World and life on the high seas in 1715," said Brent Brisben, 1715 Fleet-Queens Jewels Co-Founder and Operations Manager
Struck in Colombia, Mexico and Peru, the gold coins range in denomination from one escudo to eight escudos, and are dated between 1692 and 1715 during the reigns of Spanish Kings Charles II and Philip V.
"In addition to the 224 coins discovered in 2015 by 1715 Fleet-Queens Jewels there are 71 shipwreck coins from the 1715 Fleet found during their two earlier underwater expeditions in 2010 and 2013 that now will also be available to collectors for the first time," John Albanese of Bedminster, New Jersey, the dealer who brokered the deal to acquire the never-before offered coins. "There even are coins they discovered inside a ship's cannon," he added.
The coins have a total estimated market value of more than $1 million, after having been authenticated and graded by Numismatic Guaranty Corporation (www.NGCcoin.com). All but five of the coins are in Mint State.
"NGC worked directly with the recovery group to not only preserve the important provenance of these coins, but also the story of their individual recovery," stated NGC Chairman Mark Salzberg.
NGC created special labels for the coins to include a special designation for those recovered from the cannon.
"For the first time, specific dive missions and finds are referenced on the NGC certification label," Salzberg said.
Highlights from the shipwrecked coins include:
a 1712 Peru 8 escudos of Philip V, graded NGC MS 64;
a 1711 Peru LM 2 escudos of Philip V Peru, NGC MS 66; and
a 1699 Colombia 2 escudos of Charles II, graded NGC MS 64, that was discovered inside a recovered bronze cannon.
Blanchard and Company (www.BlanchardGold.com) and Monaco Rare Coins (www.MonacoRareCoins.com) are the primary dealers that will be selling the coins.