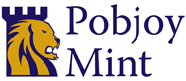 The Pobjoy Mint in March 2017 will no longer represent the Isle of Man as the official producer of their legal tender coins.
"Pobjoy Mint has had a long and fruitful relationship with the Isle of Man that has lasted for over 40 years; we wish them well for the future," Europe's largest privately owned mint said in a statement released on July 19.
The Isle of Man is a self-governing Britsh Crown dependency that is situated in the Irish Sea between the United Kingdom and Ireland.
The private mint noted that the Isle of Man has announced a reduction in the number of themes that can be produced in a given year, and that this means that many coins will no longer be made.
"We urge our customers to order existing Isle of Man products while stock lasts," the Mint said.
The Pobjoy Mint (www.pobjoy.com) will continue to strike coins for its other issuing authorities that include Ascension Island, British Antarctic Territory, British Indian Ocean Territory, British Virgin Islands, Falkland Islands and South Georgia and South Sandwich Islands.