As we approach the new year, we're treated with images and details of upcoming coins. Among those to debut in 2016 is the Gerald R. Ford Presidential $1 Coin.
The United States Mint recently unveiled details of the dollar's design. Along with that information, we're pleased to offer first-hand photos of the coin and dies used to produce them. They were taken during our recent visit to the U.S. Mint's facility in San Francisco where collector proof products are made.
Appearing on the obverse (heads side) of the $1 coin is a portrait of the 38th President of the United States. The effigy, designed and sculpted by Phebe Hemphill, is surrounded by inscriptions of GERALD R. FORD, 38TH PRESIDENT, 1974-1977 and IN GOD WE TRUST. Here are three photographs of the proof dollar: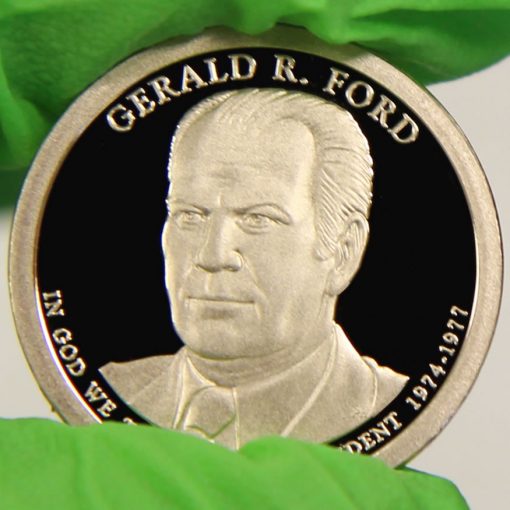 Seen on reverses of all Presidential dollars is Don Everhart's depiction of the Statue of Liberty. Inscriptions around the design include $1 and UNITED STATES OF AMERICA. There is also edge lettering on dollar coins that include E PLURIBUS UNUM, their year of issue, and a mint mark to denote where they were struck.
During our visit, we were also able to see some of the dies used to strike next year's proof coins. These dies are produced at the Philadelphia Mint and then shipped to San Francisco where they are treated and polished to create their unique finish. Three photos of Ford $1 dies appear below.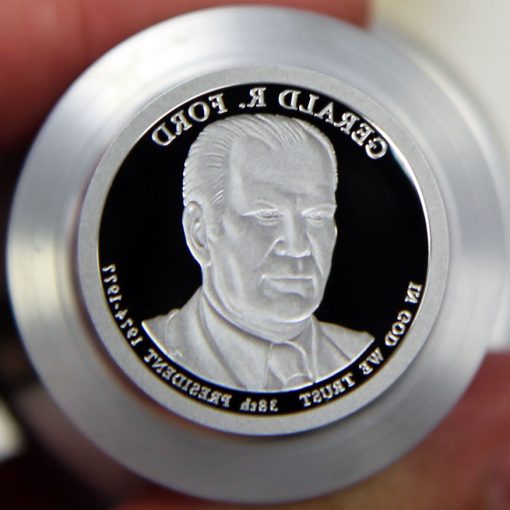 The Presidential $1 Coin program started in 2007 and has seen four designs a year honoring the former Presidents of the United States in the order in which they served. Terms of the authorizing law for the series mandates that a President must be deceased for at least two years to be eligible for the program.
2016 marks the completion of the series with three coins. The first Presidential dollar of the year features Richard M. Nixon and the second dollar honors Gerald R. Ford. Designs for the Ronald Reagan Presidential $1 Coin will be announced on Feb. 6, 2016, the 105th anniversary of President Reagan's birth.