This short article presents photos of the 2015-W $100 American Liberty High Relief Gold Coin and offers early sales comparisons against other modern U.S. gold coins.
Demand was in full swing. The United States Mint's first-ever $100 gold coin leapt out of the sales gate on Thursday, July 30, with over 35,000 of the maximum 50,000 sold within the first four hours. Some buyers had their new coin in hand in less than 24 hours.
Sales raced hot until a barricade appeared, throwing some cold water on prospective buyers. At about 3:20 p.m. Eastern Time, the U.S. Mint suspended ordering for several hours, listing the gold piece as unavailable. That lasted until around 6:40 p.m., when the coin returned but in backorder with an expected in-stock date of Oct. 1.
The Mint tends to beat those early published stocking dates, but the very nature of back-ordering with long expected wait times is discouraging for some. Based on the latest sales total, it may have already dashed some sales. The U.S. Mint is now reporting a first-day total of 36,686 coins, or 73.3% of the maximum. That's an increase of less than 2,000 from those very early hours.
Despite the later hurdles, the coin has already made some history. Its sales stand well atop other starts of unique and modern one-ounce, .9999 fine gold coins. That includes:
the 2013-W $50 Reverse Proof American Buffalo Gold Coin with sales of 21,009 in its first 27 hours, and
the 2009 $20 Ultra High Relief Double Eagle Gold Coin with first-day sales of 28,173.
Pricing of the new 2015 $100 American Liberty is $1,490. It has a mintage limit of 50,000 and a household ordering limit of 50 coins.
As comparisons, the 2009 $20 UHR Double Eagle launched with a one-coin limit but cheaper $1,189 price. It ended with unaudited sales of 115,178. The 2013 $50 Reverse Proof Buffalo was more expensive, launching at $1,640. It lacked limits other than a four-week sales window and it ended with unaudited sales of 47,836.
There is also, of course, the more recent 2014-W $50 Proof 50th Anniversary Kennedy Half-Dollar Gold Coin. It's struck to .9999 fine purity but has less gold at 0.7500 troy ounces. The anniversary coin kicked off at a price of $1,240 and scored first-day sales of 56,694 coins. It's now listed on the Mint's website for $1,090, but unavailable, and it had sales of 73,218 as of last Sunday, July 26.
In ending, here are some larger photos of the coin, which include comparisons with proof and uncirculated 2015-dated American Gold Eagles.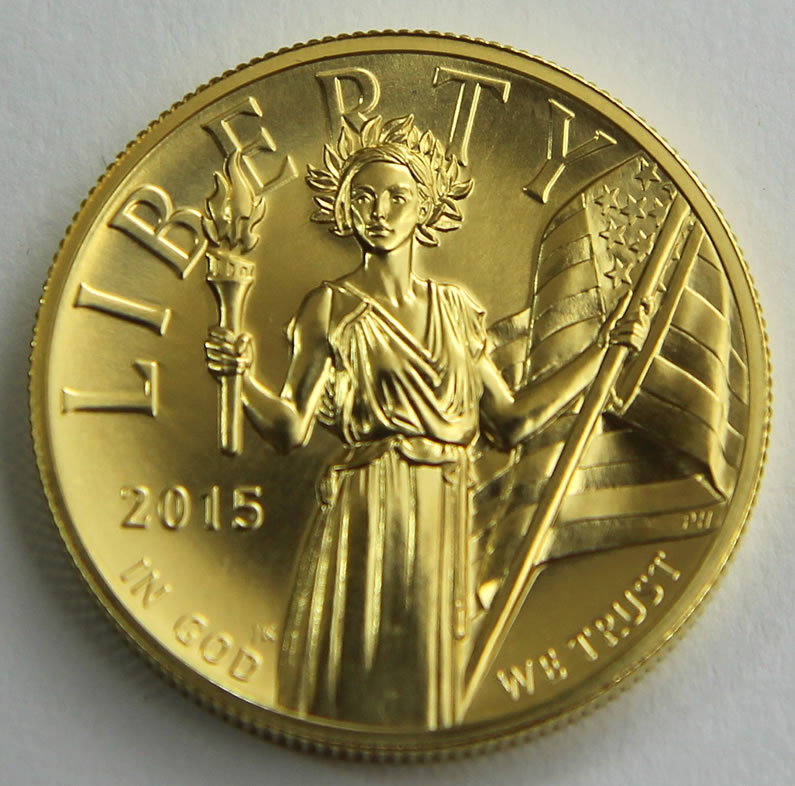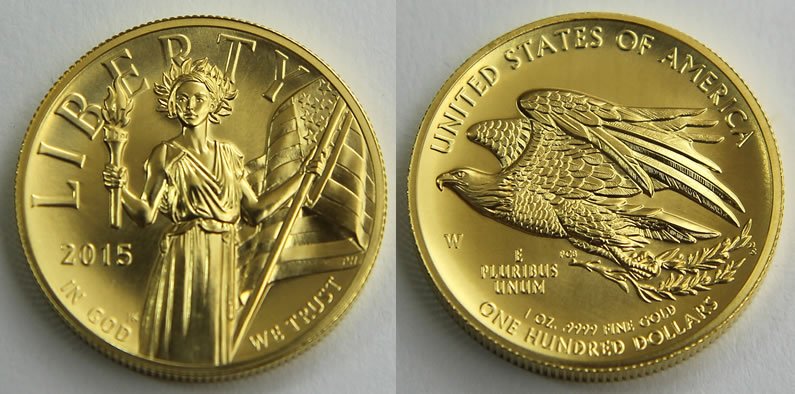 The Mint's product page for the coin is right here.