Early demand improved again for the annually issued uncirculated Gold Eagle, a companion collector coin to the United States Mint's popular bullion American Gold Eagle.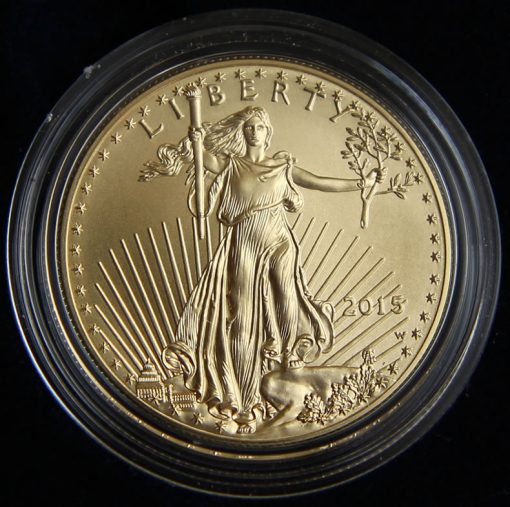 Released on Thursday, April 30, this year's coin drove in with sales of 2,157 by Sunday, May 3. Last year's release logged early sales of 1,844 and the coin for 2013 opened with 1,448.
Recent issues have certainly enjoyed the support of lower starting prices. This year's uncirculated Gold Eagle launched at $1,475, with the 2014 coin beginning at $1,575 and the 2013 coin opening at $1,725. Collectible gold coin prices can change weekly, depending on the trending value of gold.
Final sales have climbed for the series as well. The following table lists mintages for uncirculated Gold Eagles since their introduction in 2006.
$50 (1 oz)
$25 (1/2 oz)
$10 (1/4 oz)
$5 (1/10 oz)
2014-W
7,902
N/A
2013-W
7,293
2012-W
5,829
2011-W
8,729
2010-W
Not Released
2009-W
Not Released
2008-W
11,908
15,682
8,883
12,657
2007-W
18,606
11,455
12,766
22,501
2006-W
45,053
15,164
15,188
20,643
This year's 2015-W $50 Uncirculated American Gold Eagle is available through the U.S. Mint's online section of gold coins, located here. Place phone orders using 1-800-USA-MINT (872-6468).