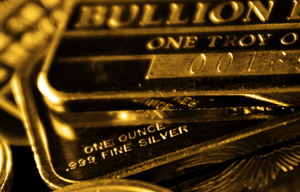 Gold prices declined for a fifth straight session to end at a new four-month low, sinking 3.5% for the week and 3.9% for the month.
Gold for August delivery on Friday dropped $11.10, or 0.9%, to settle at $1,246 an ounce on the Comex division of the New York Mercantile Exchange. The settlement price was the lowest since gold closed at $1,239.80 an ounce on Jan. 31.
"Gold has been trading in a compressing range since March with prices being supported by geopolitics, while the broad strength in stocks has kept pressure on precious metals," MarketWatch quoted Tyler Richey, an analyst for the 7:00's Report, which offers daily markets commentary.

"This week, it was a combination of the Ukrainian elections going smoothly as well as the break to new all-time highs in the S&P [500] that sent gold futures plummeting to lows not seen since early February," he said. "Going forward, inflation remains the key catalyst and although there are signs that inflation is bottoming (not only domestically but globally), it's not going to be enough to initiate a gold rally just yet."
Gold's 3.9% monthly loss was the worst of the year. Gold prices gained 0.9% in April, fell 2.9% in March, surged 6.6% in February, and jumped 3.1% in January. Gold has increased $43.70, or 3.6%, since ending 2013 at $1,202.30 an ounce.
Gold Outlook
Majority participants in the latest Kitco News survey are bearish about gold prices next week. Eighteen participants expect prices to trade lower, 7 see prices rising and 2 see prices trading sideways or are neutral. Kitco News reports that:
"Those who see weaker prices continuing say now that gold fell through the technical-chart wedge formation, further losses are possible… Those who see prices rising next week said gold could see a bounce after such a sharp break… Those who see prices sideways or are neutral say gold prices may try to stabilize after this week's selloff."
Participants were divided in last week's survey by Kitco.
Silver, Platinum and Palladium Futures
Silver also extended its losing streak to five sessions, and plummeted 3.8% for the week and 2.6% for the month. On Friday, silver for July delivery lost 33 cents, or 1.8%, to close at $18.68 an ounce.
Silver prices turned down on the year as a result of this week's declines. The white metal is off 3.6% from the 2013 close of $19.37 an ounce.
PGM futures split on Friday and for the week but climbed in May. In the Friday and weekly breakdowns:
July platinum shed $7.40, or 0.5%, to $1,452.70 an ounce, falling 1.4% from a week ago.

Palladium for September delivery added $1.85, or 0.2%, to $836.35 an ounce, gaining 0.6% from a week ago.
In May, gains tallied to 1.7% for platinum and 2.9% for palladium. For the year so far, platinum has jumped 5.7% and palladium has soared 16.4%.
London Fix Precious Metals
London precious metals fixings were mixed. When comparing the London bullion fix prices from Thursday PM to Friday PM:
Gold slipped $4.50, or 0.4%, to $1,250.50 an ounce,
Silver rose 15 cents, or 0.8%, to $19 an ounce,
Platinum gained $17, or 1.2%, to $1,464 an ounce, and
Palladium added $6, or 0.7%, to $836 an ounce
For the week, palladium climbed 1% while the other metals registered declines of 3.2% for gold, 2.2% for silver and 1.3% for platinum. Monthly gains totaled 2.8% for platinum and 4.1% for palladium while monthly losses tagged in at 2.9% for gold and 1.5% for silver.
US Mint Bullion Sales in May
While U.S. Mint bullion figures for May are not likely to change, the bureau has not officially closed the month out. CoinNews.net will later publish a more detailed analysis but as the numbers stand now:
American Eagle gold coins gained 35,500 ounces after sales of 38,500 ounces in April. Sales for the year so far are at 217,500 ounces, well lower than last year's five-month total of 572,000 ounces.

2014 American Eagle silver coins rose 3,988,500 in May compared to 3,569,000 in April. Silver Eagle sales for the year have been rationed by the U.S. Mint and stand at 21,436,500, for the second quickest pace for a year through May 30. Last year holds the record for the period, barely, at 21,768,500. Sales of the silver coins slowed sharply in the last two weeks. In related coin news, on Friday the U.S. Mint announced that it was no longer allocating Silver Eagle sales. U.S. Mint distributors can begin ordering as many as they want beginning on Monday.

American Buffalo gold coins gained 12,500 compared to 17,500 in April. The monthly total is the third highest this year.

2014 America the Beautiful Five Ounce Silver Bullion Coins advanced 23,100 after gaining 10,600 in April. Most of the increase came from sales of the Shenandoah coin that launched on May 5, 2014.

American Platinum Eagle coins climbed 1,000 in May after rising 1,200 in April. The platinum coin is in its 12th full week of release following a five-year hiatus.
Below is a sales breakdown of U.S. Mint bullion products with columns listing the number of bullion coins sold on Friday, last week, this week, last month, in May, and the year-to-date.
American Eagle and Buffalo Bullion Sales (# of coins)
Friday Sales
Sales Last Week
Weekly Sales
April Sales
May Sales
YTD Sales
$100 American Platinum Eagle Bullion Coins
0
300
0
1,200
1,000
12,200
$50 American Gold Eagle Bullion Coins
500
11,000
6,500
26,000
29,000
155,500
$25 American Gold Eagle Bullion Coins
0
0
0
5,000
3,000
25,000
$10 American Gold Eagle Bullion Coins
0
0
0
20,000
6,000
68,000
$5 American Gold Eagle Bullion Coins
5,000
10,000
5,000
55,000
35,000
325,000
$50 American Buffalo Gold Bullion Coins
1,000
3,000
3,500
17,500
12,500
95,500
$1 American Silver Eagle Bullion Coins
125,000
300,000
426,500
3,569,000
3,988,500
21,436,500
Great Smoky Mountains National Park 5 Oz Silver Bullion Coins
0
500
0
10,600
4,000
27,000
Shenandoah National Park 5 Oz Silver Bullion Coins
0
200
1,700
N/A
19,100
19,100