The Citizens Coinage Advisory Committee (CCAC) welcomed Mary N. Lannin as a new member at its recent meeting in Philadelphia. Lannin was appointed to the 11-member committee on May 19, 2014 and will serve the statutory term of four years.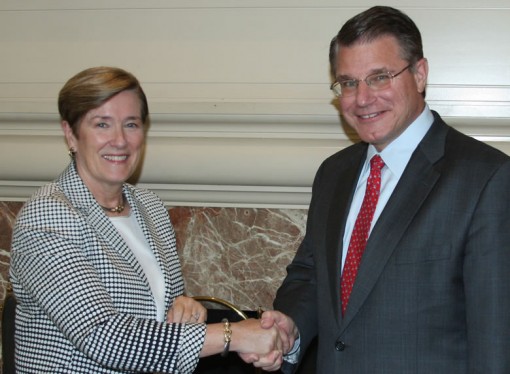 Recommended by House Democratic Leader Nancy Pelosi, Lannin fills the vacancy created by the expiration of Michael Olson's appointment.
Lannin is a free-lance editor and has worked on many numismatic papers and publications. Among other notables, she is a Life Member of both the American Numismatic Society and American Numismatic Association, as well as a member of the Royal Numismatic Society, the Swiss Numismatic Society, the San Francisco Ancient Numismatic Society and the New York Numismatic Club.
The American Numismatic Society will publish her die study of Alexander II Zabinas at Antioch, co-authored with Arthur Houghton, in the upcoming Hellenistic Studies volume. She also researched and assisted other scholars who are contributing to the study.
Lannin graduated with a Bachelor of Arts degree from the University of Minnesota in 1969 and attended Trinity College, Washington D.C.
Marks and Wastweet Reappointed to CCAC
In other CCAC news, Deputy Secretary of the Treasury Sarah Bloom Raskin reappointed Gary Marks to a new one-year term as chairperson of the committee. Marks became a member of the CCAC in 2007 and was first appointed chairperson in 2010.
Heidi Wastweet was reappointed to the committee for another four year term. She serves as the resident member specially qualified in medallic art or sculpture and has done so since her initial appointment in 2010.
About the CCAC
The Citizen's Coinage Advisory Committee (www.ccac.gov) was established by an Act of Congress in 2003. The body advises the Secretary of the Treasury on designs and themes for coin and medal programs produced by the United States Mint. The committee is composed of 11 members: one specially qualified in numismatic collection curation; one specially qualified in the medallic arts or sculpture; one specially qualified in American history; one specially qualified in numismatics; three individuals representing the interests of the public; and four individuals recommended by the Leadership of both the House of Representatives and Senate.