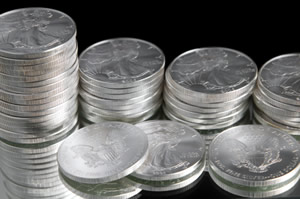 With the supply of silver blanks strained, quantities of 2014-dated American Silver Eagles from the U.S. Mint will remain limited as sales of the bullion coins kick off today, Jan. 13, 2014. Blanks are the round metal discs needed to make the 99.9% pure silver coins.
The bureau this year will continue its allocation program which limits how many Silver Eagles its authorized dealers can buy, estimating about 3.5 million will be available for allocation this week and noting "allocated quantities for the following week will be much lower."
Coin News Update: Later on Monday, the U.S. Mint provided the opening day sales total for the 2014 Silver Eagle and it also specified the exact weekly allocation amount. It said first-day sales reached 3,180,500 coins from the weekly allocation of 3,575,000 coins. On Tuesday, the bureau said another 191,000 coins sold, leaving 203,500 left for the week. The Mint also said it expects next week's allocation level to be around 500,000 to 600,000 coins as it begins "slowly building weekly inventories."
The original 3.5 million amount was provided by the U.S. Mint in a memo sent to its group of buyers and it's the combined total from both facilities producing American Silver Eagles, the West Point Mint and San Francisco Mint.
San Francisco was added as a bullion Silver Eagle maker in 2011 to help satisfy demand that ramped up in 2008 to unprecedented levels and then kept growing. American Silver Eagle sales hit an all-time annual record of 42.675 million in 2013. The United States Mint now has the capability to fulfill demand, but the limited supply of silver blanks has kept allocation alive. The bureau does not manufacture blanks for silver coins like it does for nickels, dimes and quarters. They are purchased from a select group of vendors who are rationing how many they sell.
One of those vendors, Sunshine Minting Inc. (SMI), may help free the Mint from its allocation program with the addition of a new production facility in Las Vegas.
"At every opportunity, we have tried to give a little more output to the U.S. government as they have asked for it," Tom Power, President and CEO of Sunshine Minting Inc., said in an interview published in the December Silver Institute newsletter.

"All of the blank makers, not just us, have had to allocate their product
among customers including the U.S. Mint. With our added capacity, we can increase our allocations to all of our customers."
Power said they have gone from an output of 1.2 to 1.3 million ounces a week to well over 2 to 2.5 million ounces.
Bullion American Silver Eagles are not sold by the U.S. Mint to the public, unlike collector versions that carry mint marks and special finishes. The Mint sells them in bulk to authorized dealers for $2 per coin, plus the market value of the silver in them. These dealers, officially called "Authorized Purchasers," resell the coins in smaller quantities for a modest markup.
Today, AP's placed their orders for new 2014 American Silver Eagles. They can pick them up at the West Point Mint on Thursday, Jan. 16. Orders accepted will be fulfilled randomly with boxes of San Francisco-produced and West Point-produced coins.
"Authorized Purchasers will not be allowed to specify San Francisco or West Point-produced coins in their orders. The American Eagle Silver Bullion Coin green outer, recyclable boxes (Green Monster Boxes) will feature the unique 'banding' of the facility where the coins were struck," the Mint's memo stated.
Bullion and coin dealers are currently preselling 2014 American Silver Eagles for about $3.50 – $5.50 over silver spot with discounts offered for larger orders and for those paying by cash, check or wire. Generally, American Silver Eagles command a higher premium earlier in the year as investors and collectors jump at getting the new dates.
Last year in January, 2013 American Silver Eagle sales reached a monthly record of 7,498,000. The 2013-dated coins debuted on Jan. 7, 2013 with orders of 3,937,000. The Mint had to halt sales temporarily on Jan. 17, 2013 when its stockpiles were depleted. Sales resumed in an allocated basis on Jan. 28, 2013 with rationing in place ever since. The 2013-dated Silver Eagle inventory ran out on Dec. 13, 2013. The month-long dry spell may help in driving January 2014 sales to a new record.
Bullion American Silver Eagles have been produced annually by the United States Mint since 1986.
The Mint released its 2014-dated gold bullion coins — the American Gold Eagles and the American Gold Buffalo — on Jan. 2, 2014. They have enjoyed strong early sales.